Disney released the new Star Wars Trailer yesterday at the Star Wars Celebration in Anaheim yesterday.  (Hey, it was on my events list, don't blame me if you didn't buy attend.)
Noticing things:
Chewie has no grey hair.  Which is okay, we don't know if he lives for thousands of years or not.
If the Empire can still make storm trooper outfits, it's possible they still have a large portion of the galaxy under it's control.
Luke says, 'my father has it.'  interesting verb tense.
I'd like to see the rest of the fight inside the ship.  Or maybe it's a bit bigger on the inside than it is on the outside.
I think it's a great movie trailer.  It invokes the original with the music and images.  It makes you want to see more.  And finally, the payoff at the end with Chewie and Han.
Here is the first Star Wars trailer:
While it a standard issue movie trailer, it didn't seem to evoke any the original feeling in the clip.  We don't know these characters, they are just running about doing things.
BB-8 the new Droid has made a live appearance on the stage.  It's a puppet and not CGI in the film.  There isn't a shoutout to Simon Pegg, who suggested that they return to puppets to make Star Wars look more real, but I can do that!  Yah!  Simon Pegg
https://www.youtube.com/watch?v=ABzjUf3E_0c
How did they do that?  Round robot and not an attached head?  Try looking at this sketch featured on xkcd.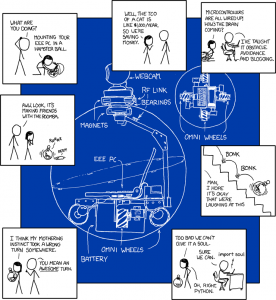 Try wrapping your head around that!
Hope you all have a shiny day!